Experiencing a growth in enrollment and a housing crunch, the College of Idaho needed to rapidly expand its housing capabilities. The challenge was that building a large-scale residential hall was too much to take on, and that doing so would take longer and cost more than the school wanted to invest.
"If we built a large-scale residential hall, it would take roughly two years from the design phase and the site work to construction. It would probably be a $12 million project. That project size would have been more than our current needs, but it could grow into. Our desire was to not end up with a 'build and they will come' level of housing, but instead to build to a scale from which we could work up," explained Richard Erne, vice president of finance and administration at the College of Idaho.
The college's search for a modular, efficient, and cost-effective option brought them to IndieDwell, a company committed to modular, affordable housing solutions that are energy-efficient, sustainable, and healthy. IndieDwell proposed building two three-story student housing buildings using decommissioned shipping containers, addressing all of the College of Idaho's challenges through that solution.
"With a shipping container–type modular structure, the pricing was what we wanted to spend, and we could bring the new housing to our campus in five to six months and have it for fall semester," said Erne.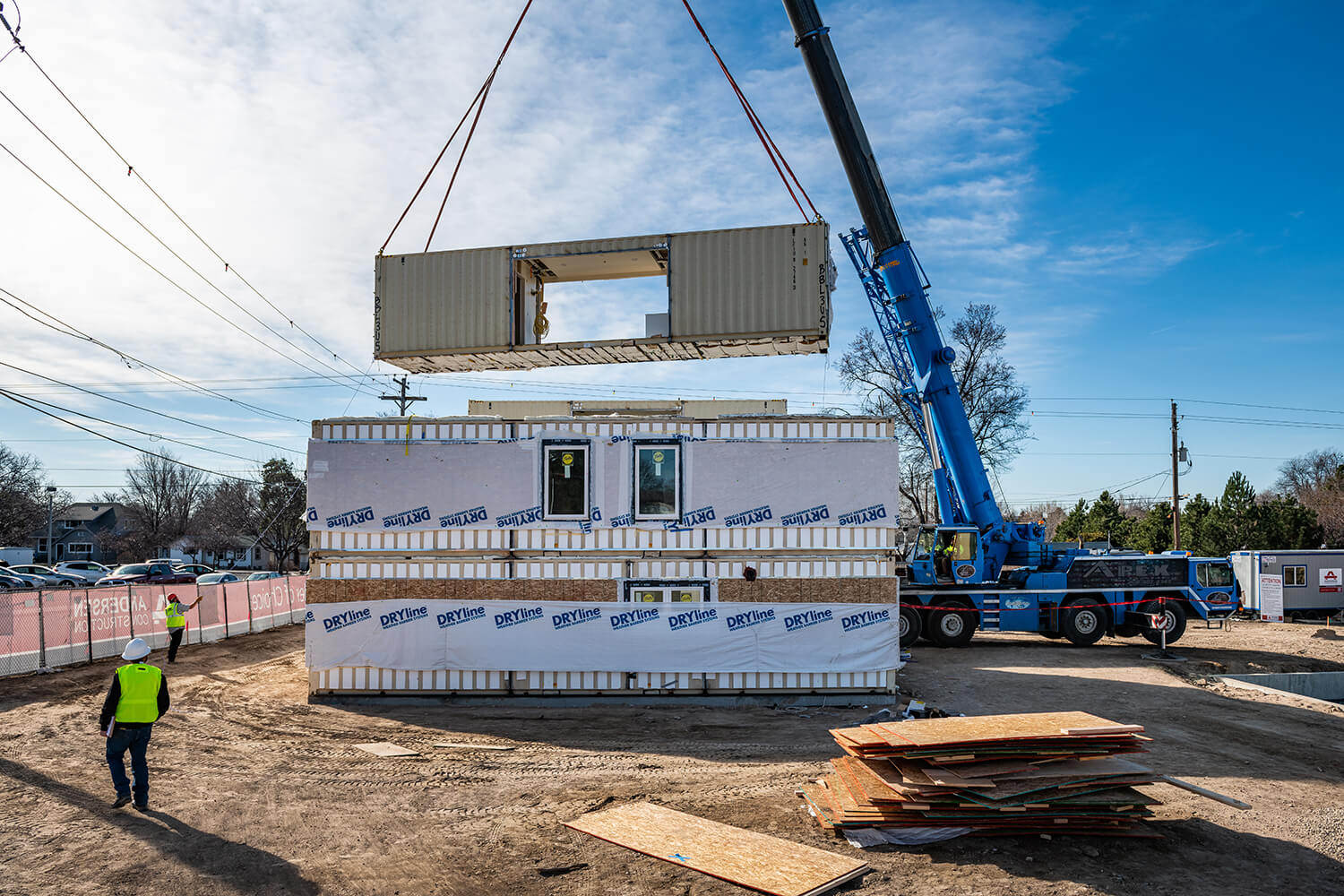 New method, new challenges
This was IndieDwell's first venture into a first-of-its-kind commercial project with shipping containers, so there was a lot to learn. IndieDwell brought Andersen onto the team in a limited role initially, but the team became significantly more involved as the project progressed.
IndieDwell's Project Manager Kelsey Johnston underscored the importance of the partnership, saying, "Providing a modular solution for student housing at the College of Idaho was our first big commercial project where we built up and had stairwells. It was a huge learning experience for us from what would happen in the factory, to what it'd end up looking like from production to the install standpoint, and what issues we'd run into."
IndieDwell, Andersen, and other partners pioneered a new industry method and increased efficiency on-site. The team visited the container factory regularly with trade partners to see firsthand the attachments and thresholds to prep for install on-site as well as identify and mitigate field issues prior to their occurrence.
This project being the first time IndieDwell had vertically stacked shipping containers. the team came together to determine how to best construct the foundation. Ultimately it was decided to weld anchors to the embeds. For future projects, there is potential to stack up to six containers.
Andersen's field team struck a balance to avoid 'too much prefab', acknowledging that some flexibility in the field is required to avoid rework. Andersen's field team identified areas to consider in this realm to keep the efficiency benefits of prefab. Critical access points around MEP attachments must be considered and either left to be finished in the field or fabricated in a way that allows for needed adjustments - otherwise the efficiency benefit from prefab is diminished during installation
The Andersen team and its partners' innovative approach led to a unique modular construction solution that will provide an option for future student housing that can be constructed quickly, cost less, and be expanded as needed.
"We were able to come together and do more than what IndieDwell alone was able to do, thanks to the partnership that we had with Andersen. Ultimately, by partnering, we were able to provide this beautiful, affordable, high-quality, energy-sustainable housing at a lower cost," continued Johnston.
Prefabrication foundation, modular elevation
The College of Idaho modular solution built on the success of traditional Andersen pre-fabrication advantages, such as faster install times, higher quality, and improved standardization. Additional benefits included a reduced on-site crew that improved overall jobsite productively and great efficiency due to multiple trade partners using prefabrication solutions together.
Andersen drew strongly from expertise in two specific prefabrication areas for the project:
Panelized Wall Systems: Andersen has used prefabricated panelized wood framed wall systems on several multifamily projects to date including: the Ten Mile Creek Apartments in Meridian, ID, and the Alta Waverly Apartments in Oakland, CA. Production rates are significantly increased through this process by standardizing wall packs and general unit layouts. Overall schedule duration savings for the framing scope have been in the range of 30-50% depending on the project.
Panelized Skin Systems: Andersen is currently using prefabricated exterior wall panels on the Fourth and Montgomery project in Portland that is not only saving time and increasing productivity, but it cut the on-site crew size from 14 to 3.
Deep prefabrication experience was key in turning the modular solutions into reality and realizing a host of new efficiencies along the way.
More capacity, lower cost
Leveraging modular construction enabled the College of Idaho to open both dorms before school started and do so with significant cost and long-term savings. Students moved into the newly built and named Sawtooth and Owyhee dorms in August. The two buildings add 54 new beds spread across 46 single rooms and four double rooms.
These are the first dorms built out of shipping containers in the nation, and you'd never know looking at them. Each building is three stories tall and constructed out of 40-by-8-foot shipping containers weighing 16,000 pounds each. In all, 36 shipping containers were used for the two buildings.
"With quartz countertops and individual mini-split systems for temperature control in each bedroom, these are the nicest dorms I've ever been in. It is high-quality housing that you don't often see at the university level," said Johnston. In addition to being high-quality, the buildings are also more energy-efficient than traditional construction. The design incorporates energy-efficient appliances, HVAC systems, high-density insulation, and LED lighting throughout, among the many key energy-saving components.

Better living experience, more capacity
In addition to the significant cost savings, efficient build, and enhanced housing capacity, the biggest win of leveraging modular construction is that it enhanced the College of Idaho's living experience for students. "The students who are living in Sawtooth and Owyhee really enjoy it, and the new spaces clearly have provided us with more capacity," said Erne. "So, as next fall rolls around and vaccines are readily administered so we get the COVID-19 virus under control, and we get our students back on campus, I'm sure there's going to be a wait list (for these dorms)." A video tour of the new dorms being constructed can be found on the College of Idaho's YouTube channel.