The long-awaited renovation and expansion of the 293,000 square foot historic Grant High School campus transforms an outdated series of buildings into a vibrant learning environment and community asset. Before modernization began, the Grant High School campus consisted of nine separate buildings. The structures contained five unconnected basements that were used for one third of classes as well as for the school's kitchen and cafeteria areas.
Completing the modernization required gutting and remodeling the existing 1920s-era Main Building, Gymnasium, and Auditorium, safely removing asbestos and lead, equipping the building with new MEP systems, performing seismic upgrades, as well as intentionally focusing design on how spaces within the school could better serve students, faculty, and the community as a whole. The entire interior was upgraded with state-of-the-art high school classrooms. A seismic and façade renovation, as well as an extension of the floor plate, carefully preserve the building's historic character. As part of the project, several buildings adjacent to the Main Building were demolished and replaced with a new addition to the west side of the building, a new Gymnasium building, as well as a new turf ballfield.
Despite the school's commitment to equity and its forward-thinking mindset, the very organization of the historic structure was causing some students to experience social injustice. The renovation of Grant High School provided the opportunity to examine how spatial solutions can create learning environments that intentionally address legacies of inequity.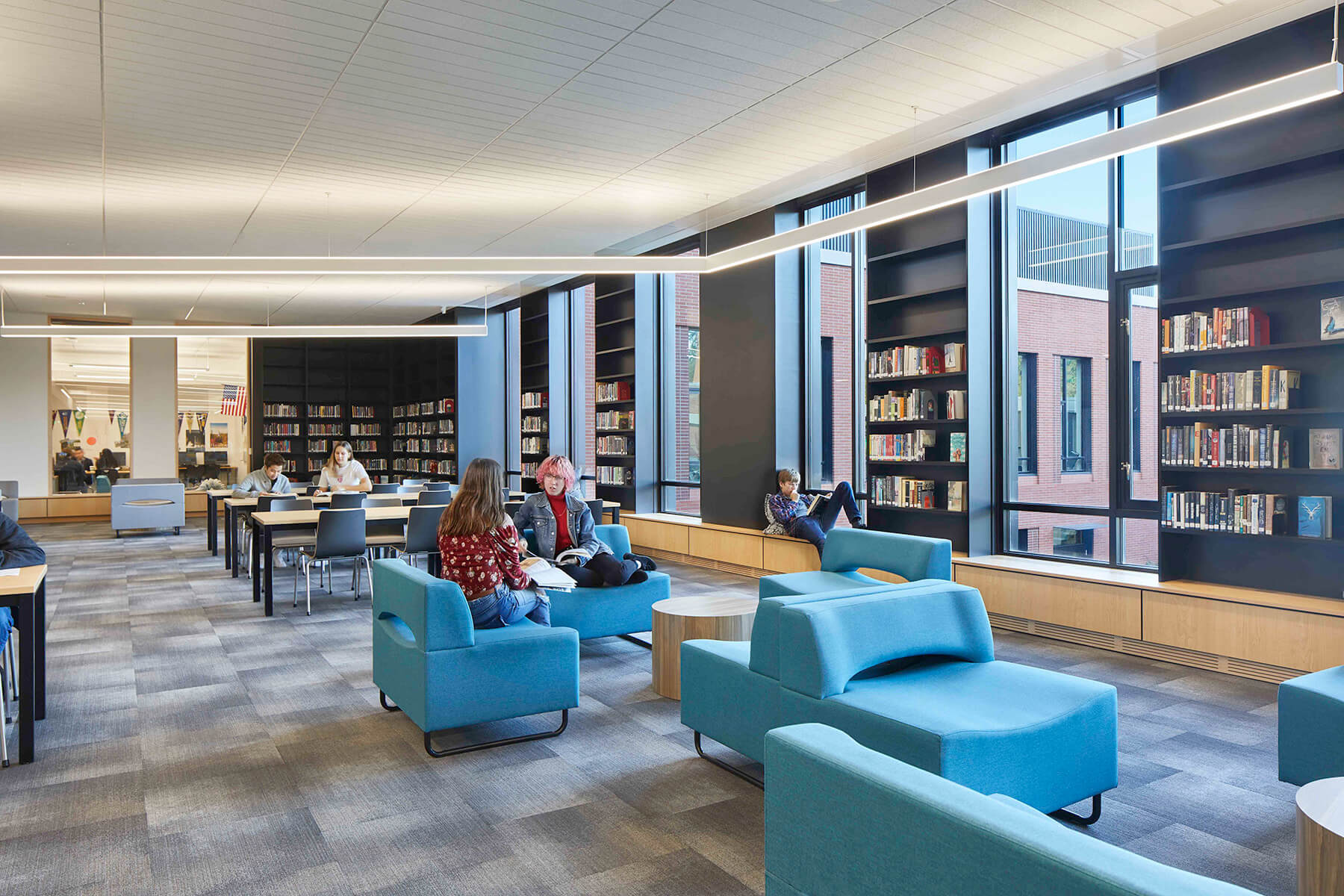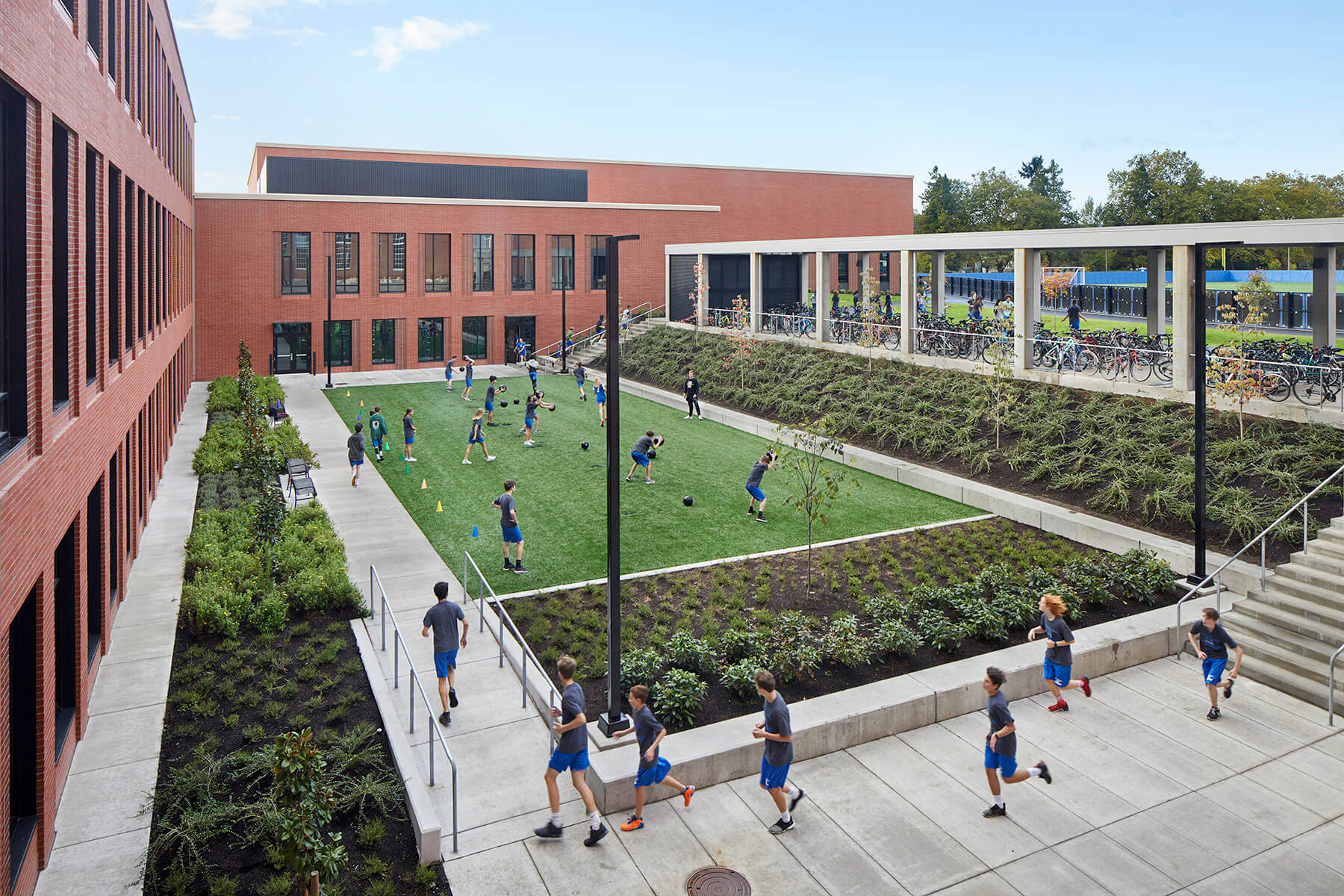 One important aspect of the remodel was the shift to all-user gender-inclusive restrooms, which Grant now has on every floor and wing of the building. The restrooms contain locking private stalls, with two open points of entry and an open, communal handwashing area outside the stalls. While the idea was initially met with concern by some—fearing that the design might increase instances of harassment, bullying, sex, or drug use within the private stalls, it has turned out to be quite the opposite. In an interview, Principal Campbell said, "in reality, this new layout is so open that these bathrooms are easier to supervise and there's less trouble. The layout is open where it needs to be open and private where it needs to be private."
By designing for all, Grant has realized a more physical, racial, socioeconomic and gender-inclusive community in which all 1,800 students feel accepted, connected, and empowered to build inclusive communities.
Since its opening in 2019, Portland Public Schools has used Grant High School as a model for its subsequent renovation projects. Benson High School (also being built by Andersen Construction) will too have gender inclusive restrooms and open, transparent spaces for learning.
Grant has been honored with numerous awards and accolades including:
Engineering News Record Northwest Magazine's K-12 Education Award of Merit
Restore Oregon's DeMuro Award
AIA Oregon Architecture Awards, Honor Award
Oregon DJC Top Projects, First Place, Primary Education
Oregon's Excellence in Concrete Awards, Education K-12 Winner
Portland Business Journal, Transformer Award
WPIbuilds.com's NWCB Oregon Restoration/Remodel
A4LE LESolutions Planning & Design Awards, Project of Distinction
The architect for the Modernization of Grant High School is Mahlum Architects. Andersen completed the construction of the school in a Joint Venture with Colas Construction.